BOYS LACROSSE GEAR
A common question is; â??what equipment does my player need? We know that it might be confusing with all of the different styles, colors and brands of gear out there. We suggest keeping it simple and affordable. Here is a basic list of required gear.
If you have any questions or need help, feel free to ask at camaslacrosse@aol.com
For Boys Lacrosse
boys lacrosse stick
gloves
arm guards
chest protector
Helmet - make sure the helmet fits well.
mouthguard + 1 extra
protective cup
cleats (no baseball cleats)
water bottle
Helmet Safety Note
Players should try on the gear for proper fit, especially the helmet.  Most items can be picked up used via craigslist but take warning on using used helmets. Make sure they have their safety sticker intact and that the helmet fits your player. The helmet is the number one safety equipment to take seriously. Most helmets have a 3-5 year life cycle. Buyer beware. If in doubt, buy a new helmet. Camas High School players typically use Cascade CPX or Cascade R helmets. High school helmets are black with a chrome face mask.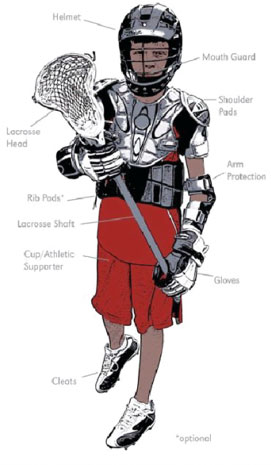 ---
GIRLS LACROSSE GEAR
girls lacrosse stick
goggles
mouthguard +1 extra
cleats (soccer cleats work best)
gloves (optional)
water bottle